Community service ideas - gift to end polio
---
Hamilton businesses supportgs Rotary Club of Hamilton efforts to eradicate polio



Looking for community service ideas? Here is a good one. Rotary International and their member clubs and Rotarians world wide work to eradicate polio. Rotary clubs everywhere hold fundraising events to support a myriad of local community and international needs.
Here is a recent fundraising event held in December 2015, by the Rotary Club of Hamilton Ontario Canada that resulted in a $15,000 contribution by this Club to end this disease. 
Congratulations to it's members for not only meeting, but surpassing it's fundraising goals.
community service ideas that made money for Rotary
Barry's Jewellers of Upper James, Hamilton gifts a magnificent 1.21 ct. diamond necklace to Rotary Club of Hamilton as fundraiser prize.

As a result of this fundraising effort, $15,000 will be donated by the Rotary Club of Hamilton to the Bill and Melinda Gates Foundation project to eradicate Polio world wide.
I'm the happy winner of this beautiful piece of art, just in time for Christmas! A generous gift from Barry's Jewellers to support the Rotary Club of Hamilton fundraising efforts.
Barrys.ca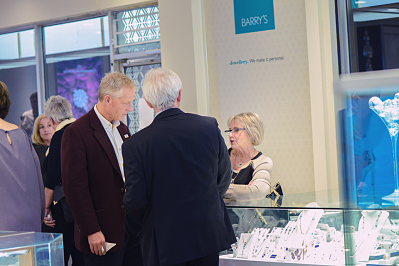 Ending polio world wide
Endpolio.org reports:

July 25,2015 marks one year since Nigeria last reported a polio case caused by the wild poliovirus.
This is the longest the country has ever gone without a case of polio, and it's a critical step on the path toward a polio-free Africa. It was only a decade ago that polio struck 12,631 people in Africa in one year —three-quarters of all cases in the world.
August 11, 2015 will mark an even greater milestone: one year since the last case of polio in Africa. For Africa to be certified polio-free by the World Health Organization, it must go two more years without a case of polio. To do this, all children in Nigeria must continue to receive the polio vaccine, including those in hard-to-reach and under served areas.
A donation of this magnificent jewellery by a local business is one of community service ideas that made it possible for the Rotary Club of Hamilton to donate $15,000 to eradicate polio.
Return to Axcess Mortgage and Loans Financing Blog
› from Community Service Ideas
Marie Copeland, FSU, Hamilton Mortgage Broker