Eliminate Credit Card Debts - Canada debt consolidation loan
---
905.537.8815
Axcess Mortgage and Loans Financing Co. Ltd. FSRAO No.10420

Are you only making minimum payments on your credit cards?

Eliminate credit card debts with Canada debt consolidation loan by cashing out tax free equity in your home. Credit card debt is big problem and most people who have a credit card typically carry a balance over the years.
The interest rate on a credit card balance is usually between 8-26%. These high interest rates make it difficult for you to pay down the debt -- especially if you're only making minimum payments.
Did you know? ... that if you carried even a small balance over a decade while making minimum payments only -- during these 10 years you'll have paid thousands of dollars in interest and service charges. This is what makes getting out of debt so difficult.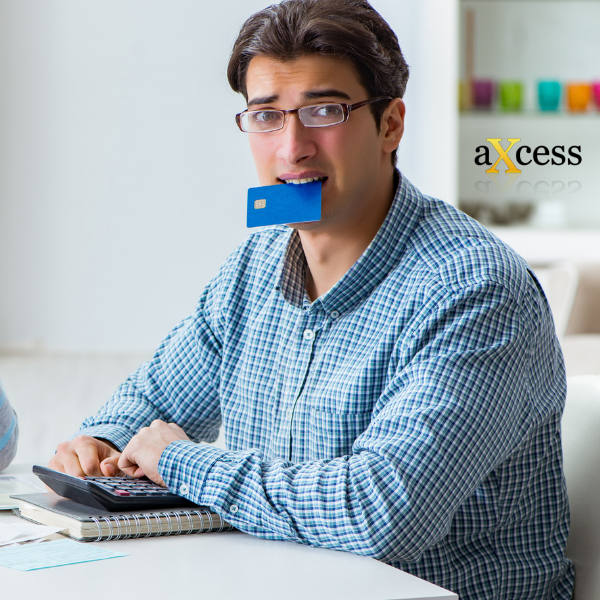 Eliminate credit card debts by cashing out tax free equity in your home.
How a no stress test mortgage gets you more money to eliminate debt

NO STRESS TEST mortgage is by far your best debt consolidation Ontario deal to lock-in low monthly payments and improve cash flow.
In January 2018 Canadian Government regulated a STRESS TEST to bank and alternative mortgage lenders. This means that a 2% qualifying stress test is added whatever interest rate you are offered.
Say the bank offers you a 4% interest rate and sets your payments at 30 year amortization. In reality, they will add a 2% stress test and will qualify you for a mortgage at 6% and 25 years amortization. 
This reduces the amount of money you qualify for by a hefty 20%. We have lenders that will qualify you on the actual interest rate offered, on approved credit. Take a look at the chart below to see how that works:
It's nice to have lots of equity in your home but if you have debt problems, it's better to put this cash to work for you. Need a consolidation debt home improvement loan ? It makes good sense to cash out some of your tax free equity to pay off your expensive debt or home renovation loans. 
How does debt consolidation work ? 
Your choice! Get tax free cash and pay 4% - 5% or less vs. up to 28% or more.
How to reduce debt ? If you have equity in your home you can reduce debt, or get out of debt completely and improve your cash-flow with a home equity debt consolidation loan.
Take a look below how clients eliminate credit card debts by cashing out some tax free equity in their home. Both are retired with good pension income and although overextended and struggling to keep up with minimum payments, their credit score was still acceptable for a NO STRESS TEST refinance home equity mortgage. They saved $1,578 a month after our best credit card debt consolidation.
Eliminate credit card debts and improve your cash flow. The savings are significant! (Rates used for calculations are sample only and subject to change at anytime)
Once your Canada debt consolidation loan to eliminate credit card debts is done, create a realistic monthly budget that allows you to live within your means -- plus, put aside a little extra money for unexpected or future expenses or emergencies.
You can eliminate credit card debts even if you have credit problems
The weight dragging you down might be the maxed-out cards in your wallet. It's never too late to start losing the weight by cashing out the equity in your home.
Even if you have bad credit we have lenders that say YES. If you have sufficient equity in your home, you can get out of debt and and improve your cash-flow with the help of bad credit home loans or private lenders -- our home equity loan approvals get you money fast, to use as you need, using alternate lenders or private mortgages. 
NEW GOVERNMENT RULES NOW APPLY TO CREDIT CARD COMPANIES IN CANADA
Look for a box on your credit card statement that will show how long it will take to pay off your balance if you just make minimum payments. You'll be shocked to see that often it can take 25 years or more!

There will also be another section on your statement that will show you how much interest you will pay by only making the minimum payments over that 25 year period. In most cases you will pay more than DOUBLE the price of the original purchase on a credit card with a 18-26% interest rate. This is not an option when you're trying to get out of debt.

Eliminate credit card debts with a home equity debt consolidation loan but don't get rid all of your credit cards completely as you need revolving credit to be credit worthy. I suggest one or two credit cards with a limit of $2,000 - $3,000 each. Use your credit cards each month paying off your balances before the due date -- this will end your debt problems.
If your situation before debt consolidation was so bad that your creditors closed down all of your credit cards, you will need a secured credit card to rebuild your credit.
Top Stories
---
You lower your monthly payments by half or more with credit card debt consolidation loans.
Bad credit debt help tools and understanding how to stop the damage.
End credit card debt by refinancing home mortgage.
Top debt consolidation loans and strategies.
Debt consolidation help even if you have bad credit.
Private mortgage lenders are a good source of money to end debt when everyone else said NO.
Are you struggling with too much debt and your monthly cash flow is suffering? I love helping good people to end the nightmare - why not consider our debt consolidation services.
Email Marie for help to eliminate credit card debts
Or Call 905-537-8815

Banks and "A" Lenders pay us for your service. EXCEPT bad credit mortgages, some self employed mortgages, private mortgages or multi-use and commercial loans - broker fees are payable by clients. 

*Lenders change their products and interest rates without notice.
How does debt consolidation work ? Share our tips 
---
Thank you for reading my eliminate credit card debts information. Please share this with your family and friends - they will appreciate your help. The easy to use social media buttons on this page make sharing quick and simple.
Return to Axcess Mortgage and Loans Financing
› from Eliminate Credit Card Debts