Hamilton Home Equity Loan Approvals
---
Even if you have bad credit ... we have lenders that say YES to house equity loans


905.537.8815 FSCO No. 10420
Banks and "A" Lenders pay us for your residential service. EXCEPT bad credit mortgages, some self employed mortgages from "B Lenders", private mortgages or multi-use and commercial loans - broker fees are payable by clients. Lenders change their products and interest rates without notice.
| | |
| --- | --- |
| | ..... follow me to get mortgage updates ... Marie Copeland @AxcessMortgage |
Homeowner? need money? banks said no? ... call 905-537-8815
Hamilton Home Equity Loan approvals and private mortgages Hamilton approvals are easy at Axcess Mortgage and Loans Financing Co. Ltd. We take the red tape out of the mortgage approval process.

Do you have poor credit and want to buy a house or refinance home mortgage but the bank turned you down ? You are not alone. But, there is alternative mortgage financing available to help you.

Does any of this sound familiar?

You have maxed out credit card debt and need bad credit debt help
Or, you're Self-Employed with credit problems
You need lower your mortgage payments - 35 year home loan amortization up to 80% if value
Maybe you're going through marriage separation and have financial issues
Or you want to stop power of sale
You're recovering from a consumer proposal or bankruptcy... whatever you need, you've come to the right place.
One conversation with me will make a huge difference in the strength of your application. You won't have to worry whether or not your residential mortgage will be approved. 

credit problems? have equity in your home? ...

Private mortgages hamilton gets you money fast 
We'll get you 1st and 2nd Mortgages to:

Pay off - end credit card debts
Buy a new home or renovate one
Refinance your existing mortgage
Stop Power of Sale or Foreclosure
Pay out Consumer Proposal
Buy a new car
Put cash into your business
Business start-up
Tax or Mortgage arrears
Buy a second property and more.
We deal with banks, credit unions, mortgage and insurance companies or private mortgage lenders throughout Ontario. 

If the banks turned you down for a mortgage - no problem. We have alternative mortgage lenders and private lenders that say YES to house equity loans. 
Grow healthy organic greens all year round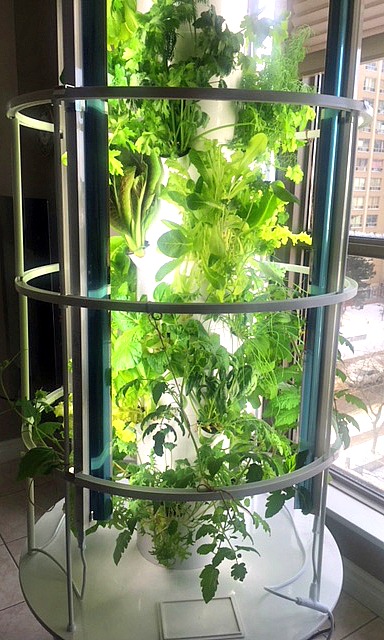 Organic garden for your home
Hydroponic garden you can place anywhere in your home, from the kitchen to a balcony. It's a gift that keeps on giving you fresh salad greens, herbs, tomatoes, cucumbers, strawberries, peas, peppers and more, all year round ... from your home garden to your plate.
grow your own food

How does debt consolidation work?
You can consolidate expensive debt, improve your monthly cash flow and STOP CREDITORS' CALLS. We'll get you fast Hamilton home equity loan approvals, even if you have bad credit -- anywhere in Ontario, provided there is enough equity in your home.
You'll get consolidation credit debt help and breathing room to have a fresh start.
Take a look at the chart on the right -- debt consolidate helped these clients save $1,004 each month improving their cash flow and credit.
Let's stop the creditors from calling and get you back on track financially.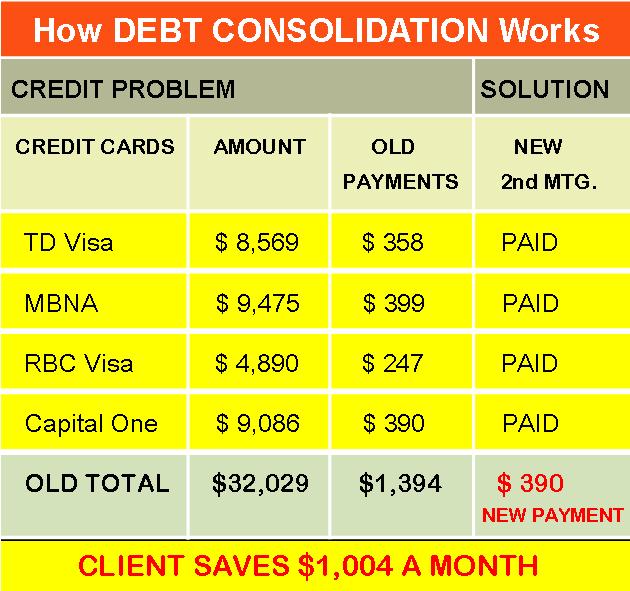 Clients often ask me about getting a second mortgage after a consumer proposal. The answer is YES you can, provided there is enough equity in your home. 

But, if you have a house, please contact me before filing a consumer proposal, it's important! We'll take steps to ensure that you don't lose your home while meeting the legal creditor requirements. 
Bad credit debt help in combination with a consumer proposal may be the ideal strategy to end credit card debt madness and protect as much equity in your home as possible.
I will assess your situation to determine if consumer proposal or debt consolidation help or both is your best bet.

If consumer proposal is your best bet and you have equity in your home, we'll cash out money for a lump settlement. Even if your situation seems impossible, you can end credit card debt and protect your home.
Why use a Mortgage Broker for Hamilton home equity loan approvals?
We work for you not to the banks to ensure you get the best mortgage available in your situation, even if you have credit problems.
We're Hamilton Mortgage Brokers assisting clients anywhere in Ontario.
Knowledge and experience counts. We've been giving clients a financial edge since 1996. Read about mortgage broker  and decide for yourself.
Many call themselves mortgage brokers but they are NOT -- only few are properly qualified to give you that financial edge. 
Marie Copeland FSU, Mortgage Broker
Subscribe to Mortgage Strategy News. Get a FREE Credit Score User Guide

Top Stories
---
See how low mortgage payments and 35 year home loan amortization strategy can help you out.

What's it take to qualify for a mortgage ? Take a look at some tips.
Alternative mortgage financing is for you if you have credit problems or are a small business owner and can't prove income on your tax returns. Good for rentals too.
Earn online income working from home -- it's fun and profitable.
Your mortgage is in arrears ? What to do. What not to do.

Self employed loans no proof of income with good or bad credit.
Top debt consolidation loans end credit card debt.
Debt consolidation help even if you have bad credit.
Bad credit debt help to give you a fresh start.
Second mortgages when the banks won't help.
Why use a mortgage broker ? We work for you not the banks.
Call 905-537-8815
Share with your friends 
---
Hamilton home equity loan approvals are fast and easy with Axcess Mortgage. Share this information with your friends who may need mortgage refinancing help. Use the easy social media buttons to share.
Return to Axcess Mortgage and Loans Financing, Hamilton Mortgage Broker
› from Hamilton Home Equity Loan Approvals