Purchase Plus Improvements Mortgage Gets You More Money
---
905.537.8815
Axcess Mortgage and Loans Financing Co. Ltd. FSRAO No.10420
Purchase Plus Improvements mortgage gets you more money to buy a home. It's a home improvement mortgage program suited for home buyers who need renovations to their house immediately.
Instead of searching for that elusive dream home at an outrageous price - you can create your own dream home at an affordable price. Get additional money, up to 10% of purchase price, to pay for home renovations ($40,000 maximum) - from kitchen remodeling to finishing your basement.
This program combines the purchase price with the costs of improvements into one mortgage at 5% DOWN of the IMPROVED VALUE up to $500,000 or additional 10% down for any amount over $500,000. Ask me what qualifies.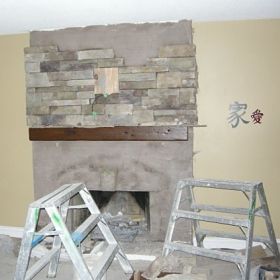 Purchase plus improvements mortgage or refinance plus improvements loan gets you 10% more money!
With today's low interest but home prices skyrocketing, it is difficult for home buyers with champagne dreams to qualify for their castle on a slim budget. With this mortgage program you are able to get your house now, without having to wait.  You can create your dream home at a price you can afford.
I had a conversation with Ryan a young real estate agent; educated, energetic and a desire to bring his clients innovative home buying solutions. 
He asked how to get his clients most money to buy a home with today's this high prices. 
Another real estate agent told him that a first time home owner got more money than the purchase price to buy a house.
We're talking about a purchase plus improvements mortgage that applies to a purchase or to refinance home mortgage - how does this work he asked?
Get 10% more money with Purchase Plus Improvements Mortgage
Let's see how my recent young first time home buyers took advantage of the purchase plus improvements mortgage. David and Joanne (not real names) recently created their own $420,000+ dream home for $324,500.
David works as a computer programmer with salaried income and has good credit. He's been on his job for 7 months and is past his 3 month probation period. 
Joanne is a dental assistant with hourly income and on her job for 3 years and she also has good credit.
They're a responsible newly married couple with big dreams for future family and a house with growing room. David and Joanne managed to save $30,000 to get their dream home. This money was their own savings combined with money they got as wedding gifts.
With their realtor at the helm they started their home buying  journey.  After 2 months of house shopping, their realtor announced that sadly, David and Joanne won't be buying a home any time soon, unless they win a lottery. As it turns out, everything they liked was way out of their price range.
Why not create your own dream home at a price you can afford I asked my clients. Look for a good home at a reasonable price that lacks that one or two of your "must haves" on your list - I will get you a purchase plus improvements mortgage to help you create that fabulous home you've been looking for but couldn't afford.
Two weeks later Joanne called to say they found a good size three bedroom, 2 bathroom house with a finished basement but it's "really tired and the kitchen has to go." There are no major home maintenance and repair problems. There is a beautiful back yard with gardens and a new front porch that is envy of the neighborhood"  she said.  The electrical was updated and to code and windows were under 10 years old. The roof was re-shingled about 12 years ago but the furnace will need to be replaced over the next couple of years.
Property was owned by an elderly couple and although there were no real home maintenance and repair problems, it needed serious cosmetic updating. Most walls are covered with pink and blue flowered wallpaper, the carpet in the basement is worn out but there are gleaming inlaid hardwood floors throughout the rest of the house.
I'm a bit handy David said and I don't mind a little work like painting and pulling out carpets "but the kitchen is a problem and bathrooms need updating too" he said.
Clients bought their "tired" house for $295,000. They qualified for additional 10% or $29,500 to be added to their mortgage to pay for renovations which must be completed within 120 days from closing.
Here is how my young clients created their fabulous dream home:

David and Joanne have $30,000 in savings.
They qualify for a purchase plus improvements mortgage to buy a home at * 5% down of improved value of $324,500.
$16,225 is needed for down payment plus $4,425 or 1.5% of the original purchase price for closing costs - total $20,060. This left them with $10,000 in their savings account.
As this is their first time home buyer loan, they qualify for land transfer tax exemption, saving money on closing costs.
Visit CMHC to read about this program and any first time home buyer grants - also get other first time home buyer tips here.
Prior to closing clients provided their lender with eligible home improvements renovations quotes - take a look:

$18,000 for home kitchen remodeling;

$11,500 to upgrade two bathrooms - vanities with granite counter tops, lighting and a walk-in shower with glass enclosures.

$29,500 total renovations paid by the purchase plus improvements mortgage.
Clients used their remaining $10,000 savings towards finishing their basements and buying new appliances.
David and Joanne created their own "dream home" at a price they could afford. Their real estate agent now confirmed that the new market value of David's and Joanne's home immediately after renovation is $420,000+.
Marie Copeland FSU, Hamilton Mortgage Brokers - Burlington Mortgage Brokers serving Ontario, from Toronto to Niagara and beyond.
If this home improvement mortgage sounds complicated, don't worry - I will take you through the process step by step and the end result will be worth it.
Call 905.308.8063, or

Banks and "A" Lenders pay us for your service. EXCEPT bad credit mortgages, some self employed mortgages, private mortgages or multi-use and commercial loans - broker fees are payable by clients. 

*Lenders change their products and interest rates without notice.
Tell others about the purchase plus improvements mortgage
---
Thank you for reading about the purchase plus improvements mortgage.. Share this information with friends who want to create their dream home - they will love it.
This link will take you to more details about home improvement mortgages
› from Purchase Plus Improvements Mortgage