COVID-19 SERVICE:  We are committed to give you dedicated service. Submit your mortgage application online. Documents and signatures are handled electronically and by email from the comfort of your home, keeping you safe. 
Mortgage Broker Canada
About Mortgage Broker Canada professional, Marie Copeland (FSU), Hamilton mortgage broker serving Ontario since 2000.  Did you know that nearly half of the home loans and mortgages in Canada are now handled by mortgage brokers, instead of the banks?

This is not surprising, as a properly qualified Canadian mortgage broker can offer you expert mortgage help. Many call themselves mortgage brokers but they are NOT -- take a few minutes to read about mortgage broker industry qualifications available and decide for yourself.
Why use a mortgage broker instead of a bank
Mortgage brokers get you access to best mortgage solutions, custom fit to you!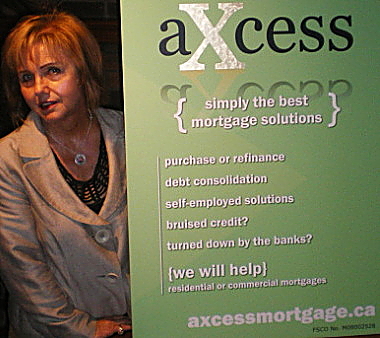 Mortgage broker Canada focus giving you home mortgage help that is right for you, not the banks.
Mortgage broker Canada lending channel is already set up to help you rely on mortgage brokers for advice and consultation. We are licensed by Ministry of Financial Services in Ontario (FSCO) who keeps us abreast of changing government lending rules and policies.
Buying a house or a swanky condo is the biggest and most expensive decision most people will make in their lifetime. Same decisions apply when you refinance home equity mortgage.
While banks focus on selling only their own products, Canada mortgage brokers focus on providing you with expert home mortgage help that is right for you, not the banks.
Canada mortgage brokers can help you choose a mortgage with best interest rate and features that match your financial resume and credit. We also ensure your identity theft protection throughout the entire mortgage application process. This is important in preventing mortgage fraud.
A mortgage Broker in Canada has access to a large pool of best mortgage lenders, including banks, trust companies, insurance companies and credit unions and private lenders. So, we can be completely independent in our recommendations and to get best rates in the market place. 
5 best reasons to use mortgage broker Canada
Mortgage brokers know who the best mortgage lenders are and negotiate best solutions that fit your application - we have access to lending policies for the financial institutions, saving you from uncertainty and frustration;

You get quick mortgage help for those less-than-perfect situations when you need a home loan bad credit solution. Many of our clients were refused a mortgage by the bank they had been dealing with for years, before they came to us and got financing;
We'll protect your credit score. If one lender should decline your application, we quickly re-direct your application to another lender with your original credit report attached, without you having to do anything. This way each new lender will not need to pull your credit again. This protects your credit rating;
We'll save you time. We do all the work -- you just provide us with documents needed. A mortgage expert will cut through all the information and deliver options that best fit your situation. This eliminates those time consuming and frustrating aspects of you trying to find the right mortgage.
If you need home buyer loans or refinance home mortgage to eliminate credit card debts and consolidate your debt, please give me a call for a free assessment. We'll address your circumstances together.

Marie Copeland FSU, Hamilton Mortgage Brokers, Burlington Mortgages.
Why use a mortgage broker instead of a bank ? Give me a try and see for yourself. One conversation with me will make a huge difference whether or not your mortgage is approved and on what terms. You won't be disappointed!
Call 905.537.8815, or
Tell a Friend
---
Thank you for visiting mortgage broker Canada. Please visit often and share this page with a friend using the social media buttons provided.
*Lenders change their products and interest rates regularly and without notice. Check with us for updates.

Axcess Mortgage and Loans Financing Co. Ltd. | FSRA 10420 


1 (905) 537-8815


Banks and AAA lenders pay us for your service. Some alternative mortgage financing and all private mortgage lending broker fees are payable by clients.