About Mortgage broker in Hamilton with Amazing clients Ontario wide



Meet Marie:  mortgage broker Hamilton ON. here to work for you not the big banks
---
Homeowners of Canada help
A bit about mortgage broker, me. I understand your struggles, been there, done that! Like many of you I am a devoted mother, a dotting grandmother and loyal friend. I am a Canadian Immigrant having had the good fortune to come to Canada, Hamilton Ontario, as a budding teenager many years ago. I am Polish born and English is my second language so I hope you can forgive the literary flaws in my writing. 
Coming to Canada in those days, my parents were scared to death wondering how we were going to survive. They had no education, no job prospects, two young kids to feed and not a word of English.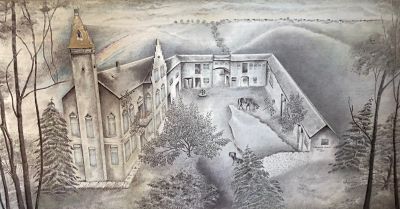 My childhood home, an early 19th century castle home in a small village in Poland. No I am not an artist. My family did not have a camera when we left for Canada so when Covid-19 lockdown came, determined to capture my memories, I ordered art supplies and started to put my history to paper. With a colorful background, maybe I will write a book, who knows?
Both my parents were in their late 40's. We arrived to Canada after an 11 day transatlantic journey on a ship named Batory, with only $25 each in our pocket and a suitcase. They bought their first and only home in Canada with a private hard money loan in Hamilton, bearing a 30% interest rate. I still have the mortgage document -- it took almost the rest of their lives to pay off their humble home. 
My parents worked hard, struggled. I feel sad when I look at the mortgage approval for their only home in Canada. No one gave them home mortgage help to improve their situation. Looking back, their private mortgage in Hamilton should have been a short term, up to 3-year fix, until they resolved their employment and credit issues. Today I know so much more about private loan lenders in Ontario and how to use these tools to improve lives. At a glance, bank mortgage vs private mortgage is at a fraction of the cost. But, getting a second mortgage with low interest only mortgage payments for a short term, in right situations can save you hundreds of dollars a month, improving your household cash flow and credit score rating. Best mortgage brokers apply their expertise to use these financial tools effectively, improving lives. Private hard money loans when used correctly with a sound exit strategy can save you money and help you rebuild financially. 
My parents did not get that home mortgage help. They just kept paying faithfully, hoping they could give me and my brother a better future. Their command of the English language remained weak and their bank never gave them home mortgage loan information to make the life changes needed. Today, I believe they could have easily transitioned into alternative mortgage financing and then prime bank lending within the first 3-5 years. I wish I could turn back that clock. Today, I could have made a huge difference how their financial journey worked out.

On the personal note, this tells you a bit about this mortgage broker Hamilton serving Ontario, passionate to help good people achieve their financial dreams.
about mortgage broker qualifications - who's who? About Marie Professionally
After many life struggles many of us experience, raising family and caring for ailing parents, I returned to studies for 5 years to obtain my Financial Service Underwriting Post Diploma. I decided that if I am going to work hard to build a service, I want to know my stuff, be one of the best.
About Mortgage Broker, Marie Copeland (Hryczynski) a Hamilton mortgage broker, Financial Services Underwriter (FSU) and founder owner of Axcess Mortgage and Loans Financing Co. Ltd., passionate about providing you with outstanding mortgage help.
There are various qualifications for arranging mortgages, here is a quick overview about mortgage broker credentials:
Mortgage Broker/Financial Services Underwriter, FSU

 is a mortgage broker who completed a Financial Services Underwriting educational program. It's a top Post-Diploma in the mortgage industry in Ontario, Canada, in my case a 5 year educational process. Completion allowed me to be licensed to operate a mortgage brokerage business including supervising other Brokers and Agents;
Mortgage Broker is an individual who has been in the industry of arranging mortgages for more than two years under the supervision of another Broker and has completed some courses to upgrade their knowledge. After that time he/she can set up their own mortgage brokerage business that includes other Brokers and can supervise Agents;
Professional associations CAAMP and IMBA continue to make efforts to upgrade the industry standards for those practicing in the field, by offering various courses.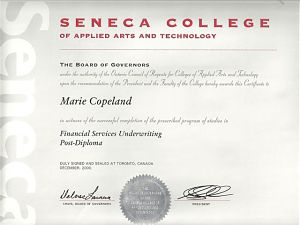 Mortgage brokers Hamilton: Marie Copeland Credentials
Financial Services Underwriting Post Diploma.
Marie Copeland credentials.
what is a Financial Services Underwriting Post-Diploma?
The higher the educational qualifications and expertise - the better and more profitable mortgage financing strategies you can expect to get.
It's a good idea for you to do a bit of research about mortgage broker educational background and experience - this will lead you to a professional with expertise needed to get you best results for your unique situation.
If you want knowledge and expertise, let me put my 20 years of experience to work for you and custom fit the best mortgage strategies that fit your situation.
My extensive educational background as a Financial Services Underwriter and years of experience in the mortgage money lending, helps me quickly evaluate your unique needs and match your application to the best mortgage loans available through my network of banks, mortgage companies and private lenders.
I have arranged hundreds of mortgage loans for clients, many of whom went to their banks and were turned down.
My About mortgage broker credentials to serve your needs
Marie Copeland was first licensed as a Mortgage Agent in 1995 and then a Mortgage Broker/FSU since 2000 after obtaining the Financial Services Underwriting Post Diploma (FSU).
FSU is a comprehensive mortgage financing educational program recognized by the Ontario Ministry of Finance which covers a variety of mortgage financing educational topics, including:
Mortgages and Capital Markets
Mortgage Financing
Mortgage Financing Law
Mortgage Broker Legislation
Real Estate Law
Real Property Assessment
Contracts Law
Mortgage Administration

Intro to Canadian Securities
Debtor/Creditor Remedies
Operating a Mortgage Brokering Business
Professional Responsibility
The Financial Services Regulatory Authority of Ontario licenses mortgage brokers, agents, brokerages and administrators in Ontario. Licensed mortgage professionals have to meet specific education, experience and suitability requirements.
Why use a mortgage broker?
No matter whether you're buying a new residential home, a swanky condo or a rental property, this is one of the biggest investments you will likely make. A mortgage broker works for you, saving you time and money. Many call themselves mortgage brokers but they are NOT -- ONLY FEW are properly qualified to give you that financial edge.

Why use a mortgage broker instead of a bank? Follow this link and see why you should rely on an a good independent mortgage professional for advice.
one-stop shopping for all your mortgage needs

About Mortgage broker Company

Axcess Mortgage and Loans Financing Co. Ltd. is an independently owned company established in June 2000. We are Hamilton mortgage brokers also arranging Burlington mortgages and throughout Ontario Canada.
We specialize in helping people save money and time while assisting them to build their home ownership and real estate investment dreams.
Developing first class mortgage strategies combined with excellent service is my commitment to clients and as such, I have a client base with repeat community referrals.
Member of Rotary Club of Hamilton
You'll often find me involved in community development, assisting boards and local charities with financially stressful community situations.
I care about providing excellent and expert service to you, your family, friends and our community.
Thank you for visiting my About Mortgage Broker page -- I hope to see you again soon.
Marie Copeland (Hryczynski) Financial Services Underwriter (FSU)  | FSRA No M08002528
Axcess Mortgage and Loans Financing Co. Ltd. FSRA No. 10420
Back to top of about mortgage broker.
*Lenders change their products and interest rates regularly and without notice. Check with us for updates.

Banks and AAA lenders pay us for your service. Some alternative mortgage financing and all private mortgage lending broker fees are payable by clients.