Refinance Home Mortgage Bad Credit
---
Hamilton mortgage brokers serving Ontario. we help clients rebuild financially.


905.537.8815
Axcess Mortgage and Loans Financing Co. Ltd. FSRAO No.10420

Refinance bad credit mortgage and stop creditor calls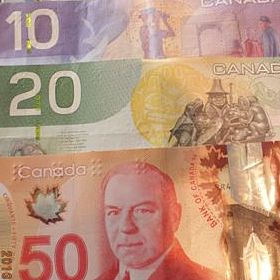 With private mortgages for bad credit you can rebuild financially faster than you think
refinance is the best way to consolidate mortgage debt


Want to stop creditor calls? Refinance home mortgage bad credit strategy could be your answer. If you have equity in your home, we have institutional lenders and private mortgages for bad credit that say YES -- you'll get money fast to use as you need.
While refinancing a home with bad credit can be challenging, it can be done. Credit problems mortgage is nothing to be ashamed of - you deserve another chance to rebuild financially and improve your quality of life. Refinance mortgage bad credit and poor credit score home loans can help.
With Axcess Mortgage and Loans Financing you can refinance with poor credit -- we consider a bad credit loan to be a useful short term fix, so long as there is a positive exit strategy.

refinance home mortgage bad credit and rebuild financially 


From time to time, many people experience setbacks in their lives. Too much high monthly debt eats away at their cash flow and a way of life. With high interest charged on credit cards it's difficult to keep up with monthly payments.
How to refinance a home with bad credit?
Let's take a look at our client who needed bad credit mortgage refinancing. The company he worked for down sized and he lost his job. Given his carpentry and plumbing skills, the client decided to try his luck at being self employed.
Unfortunately, the banks won't offer you bad credit refinance mortgage help when you need it. The client had no choice but to use his available credit to live on and get his small business going.
It took several months before he was able to bring home decent income but by then he amassed too much debt and his credit was damaged from ongoing late payments. He determined that a consumer proposal mortgage was not an option and wanted refinancing home equity help. Bad credit mortgage refinancing was his best option.

How does debt consolidation work ?
Take a look at the second mortgages Hamilton debt consolidation services strategy below.
The new credit card debt repayment is $790 a month vs. previous $1,369. Client's cash flow improves by $579 each month.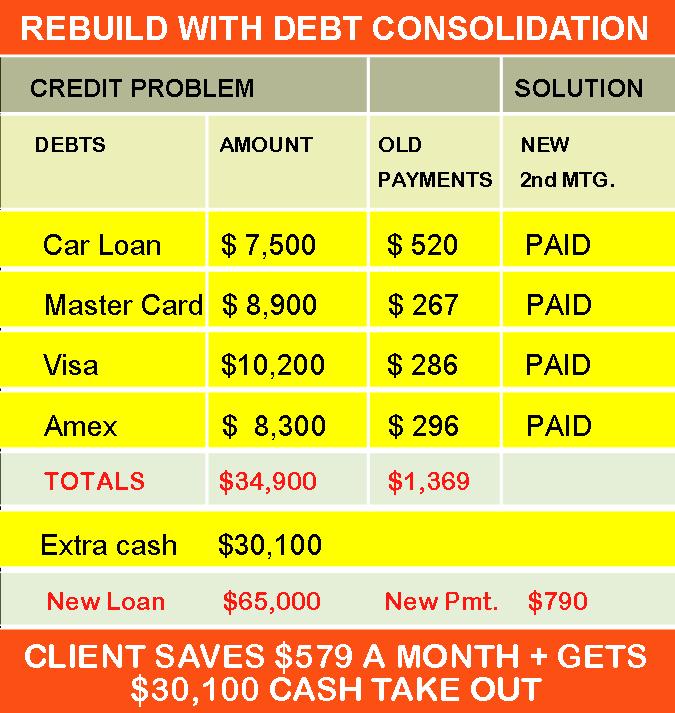 Refinance home mortgage bad credit and get back on track financially.
Client is a tradesman with numerous handyman skills with dreams to build wealth buying and renovating houses for resale or as rental properties. Fortunately he had lots of equity in his home. Refinance home loan bad credit strategy to consolidate debt is the fastest way to rebuild his credit score ranking.
Refinancing home equity is a good way to raise tax free money to get rid of expensive debt.

Bad credit refinance mortgage questions? I'll get back to you within 24 hours

How to refinance mortgage with bad credit
How to refinance your home with bad credit?
It's important to recognize that each situation is unique and demands it's own home refinance bad credit strategy -- there are bad credit refinancing options.
Bad credit home equity loan lender are alternative mortgage lenders that can help with first bad credit mortgages up to 80% of appraised value -- depending on your financial resume and property quality and location, they offer up to 85% combination of first and a 2nd mortgages for the credit challenged;
Hard money lenders Ontario are private lenders Canada ideal for bad credit mortgage refinance strategies to resolve serious credit problems or unique situations arising with the property location or quality;
Cashing out cash free equity in your home using 2nd mortgage lenders Ontario Canada are home loans for bad credit too -- common use for second mortgages is debt consolidation, but you can use the money for whatever you need from home renos to buying a car.
There are advantages to getting bad credit debt help 


Bad credit debt help using private lenders gets this client back on track. Here is the outcome:
Collection calls stopped once all the credit card debt was paid;
Monthly cash flow improved by $579 a month;
Client will use his credit cards sparingly repaying before due date - this will improve his credit score. In two years his 1st mortgage comes up for renewal and he will refinance his home mortgage up to 80%, combining both loans;
He will use the tax free $30,000 equity take out when a good deal comes around -- he will use this money to put a down payment on a rental investment property.
Refinance mortgage bad credit proved to be a good move for this client. His business is growing and he's starting to make good money. His cash flow has improved significantly and he's planning to use the $600 monthly debt consolidation savings to expand his business. His future looks promising partly thanks to home refinance bad credit mortgage solution.
Marie Copeland FSU, Hamilton Mortgage Broker helping you with home equity loans Canada bad credit debt problems.
Top Stories
---
Bad credit debt help -- How to get a mortgage with bad credit to get rid of credit card debt problems.
Private lenders say YES when you've been turned down for a mortgage.
How to refinance home mortgage and benefit from my proven cash flow strategies.
Are you overwhelmed with debt problems ?
Don't delay. Get bad credit mortgage refinance debt help and stop the damage. 
If you have equity in your home, there are refinance home loan options available ranging from bad credit loans, private home loans to 2nd mortgages Canada.
Call 905-308-8063 for refinance bad credit mortgage help, or


Banks and "A" Lenders pay us for your service. EXCEPT bad credit mortgages, some self employed mortgages, private mortgages or multi-use and commercial loans - broker fees are payable by clients. 

*Lenders change their products and interest rates without notice.
Share this article and help others
---
Refinance home mortgage bad credit helps hundreds of people overwhelmed with high interest debt load. If anyone you know fits this description, please share this story with them. The easy to use social media buttons provided are perfect to spread the word.
More about Bad Credit Home Loans
› from Refinance Home Mortgage Bad Credit