Home Renovation Loan 



---
Helps you buy your dream home with * 5% down of improved value




905.537.8815
Axcess Mortgage and Loans Financing Co. Ltd. FSRAO No.10420
HOW MUCH DOWN PAYMENT DO I NEED  for a purchase plus improvement loan
* 5% down mortgage minimum down payment Hamilton ON and throughout Ontario.

Clarification about your low down payment mortgage: Canadian Finance Minister Bill Morneau made the announcement that the minimum down payment for houses will increase effective Feb. 15, 2016. To see the full announcement, please watch the video by clicking here.
This will not affect current homeowners. Butall new mortgages made after Feb. 15, 2016 will require a minimum down payment of 5% on the first $500,000, and an added 10% down payment on the amount over $500,000.
So a home costing $700,000 would require a $45,000 down payment - 5% on the first $500,000 and 10% on the remaining $200,000.

How to get more money to buy or refinance a home?

Home renovation loan helps you get up to 10% more money
BUY

a home at * 5% down of improved value, or

REFINANCE

 home mortgage

up to 80% of improved value.
Plus increase the value of your home.
Instead of trying to find that elusive dream home at an outrageous price you can create your own dream home at a fraction of the cost. You would be surprised how easy the process is.
Purchase plus improvements mortgage lets you combine the purchase price and cost of renovations into one affordable home loan. 
Plus refinance loan gives you up to 10% more money to refinance home mortgage up to 80% of the value of the home after renovations.
Why wait till you can afford a home that has all your 'must haves' when you can create your perfect home now.

Home renovation loan to buy or refinance home mortgage
Why overpay! Buy a home you can afford which needs a bit of work or renovate an existing one -- then add the cost of renovations to your mortgage loan.
IS A BRAND NEW KITCHEN IN YOUR PLANS ?
Kitchen remodelling qualifies for this home improvement program.
This fabulous kitchen with granite counter tops from is a perfect fit for the Purchase Plus Improvements or the Refinance Plus Improvements mortgage.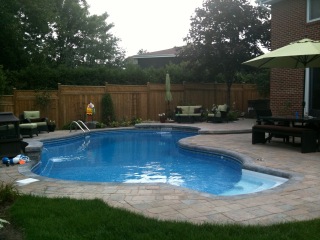 HOW ABOUT AN AWESOME SWIMMING POOL?
COULD THIS BE ON YOUR "MUST HAVE" LIST?
Buy an affordable home or refinance your existing one and add the cost of building a swimming pool into one purchase or refinance plus improvements mortgage.
Need mortgage for repairs hamilton on ?
To see how purchase plus improvement or refinance plus improvements mortgage works - use the link below to home improvement mortgage -- you will get details there.

Also, see a link below to the purchase plus improvements home repair loans article.
Ask me what QUALIFIES and what DOes NOT for home repair loans

And what if you have equity in your home and want to take some money out but have bruised credit? -- Or, you're self employed and don't declare much income on your tax returns?
No problem! When the banks say NO there is alternative mortgage financing or private mortgage lenders and second mortgages to fill the gap.
Return to Marie Copeland FSU, Hamilton Mortgages.
Top Stories
---
Refinance home equity mortgage can be a good strategy to get tax free money to renovate your home.
Purchase plus improvements mortgage to buy a house at 5% down of improved value or refinance home equity mortgage up to 80% of improved value.
Home improvement mortgage gets you more money to buy a home or refinance home mortgage.
How about saving some money while making your home energy efficient with green loans and just a few "green" improvements?
Private mortgage lenders step up to the plate when everyone else said NO.
Need second mortgage info ? With an interest only 2nd mortgage you get money fast to use as you need.
Sound Complicated? No worries. I'll walk you through the process from start to finish.
Call 905.537.8815

Banks and "A" Lenders pay us for your service. EXCEPT bad credit mortgages, some self employed mortgages, private mortgages or multi-use and commercial loans - broker fees are payable by clients. 

*Lenders change their products and interest rates without notice.
Help me spread the word about the PLUS mortgage

---
Use the buttons below to bookmark and share home renovation loan with your friends. If you're a savvy homeowner, interior decorator or home renovations contractor, go to Guest Posts form to post your renovations stories, pictures and tips.
Back to Home Improvement Mortgage
› from Home Renovation Loan