Should I Refinance Home Mortgage?
---
Understanding the prepayment penalty to break your mortgage




905.537.8815
Axcess Mortgage and Loans Financing Co. Ltd. FSRAO No.10420
Should I refinance home mortgage? Refinancing can be a good money saving strategy. People have many reasons to refinance their mortgage - to cash out tax-free equity to invest, buy another property, put their kids through university or buy a car. Sometimes it's spousal separation and clients need a new mortgage to buy out the spouse leaving the matrimonial home. But, the most common reason is to consolidate expensive debt, improve cash flow and rebuild financially.
Before you refinance home equity mortgage, ask yourself:
do the numbers work to my advantage taking into consideration the closing costs on the new mortgage, your credit score and present employment conditions, new interest rate and monthly payments and any penalty to break the existing mortgage;

do I need the money now and have a good reason to refinance home mortgage;

is there enough equity in my home that I can cash out to solve my problem.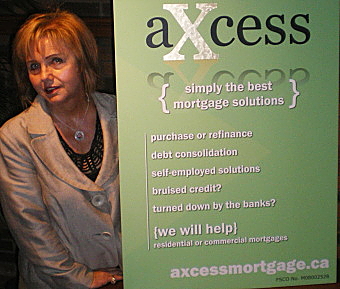 Should I refinance home mortgage? Yes. The benefits are significant.


What about the penalty to break my mortgage ?
A prepayment penalty is the amount of interest still owing on the balance of the mortgage term on your initial contract.
Ideally, you want to refinance home mortgage:
towards the latter part of your existing term to save money on the amount of penalty owing;
because you can save money by lowering your interest rate;
you have an urgent need for money;
or, the interest rates are about to climb and you want to lock into a new 5 year term at a lower rate.
If you're close to the end of your mortgage term and your penalty to break the mortgage is reasonable, it will pay itself out in no time through the new lower interest rate.
Should I refinance home mortgage ?
Will refinancing solve my problem? Take a look below at clients' scenario after refinancing.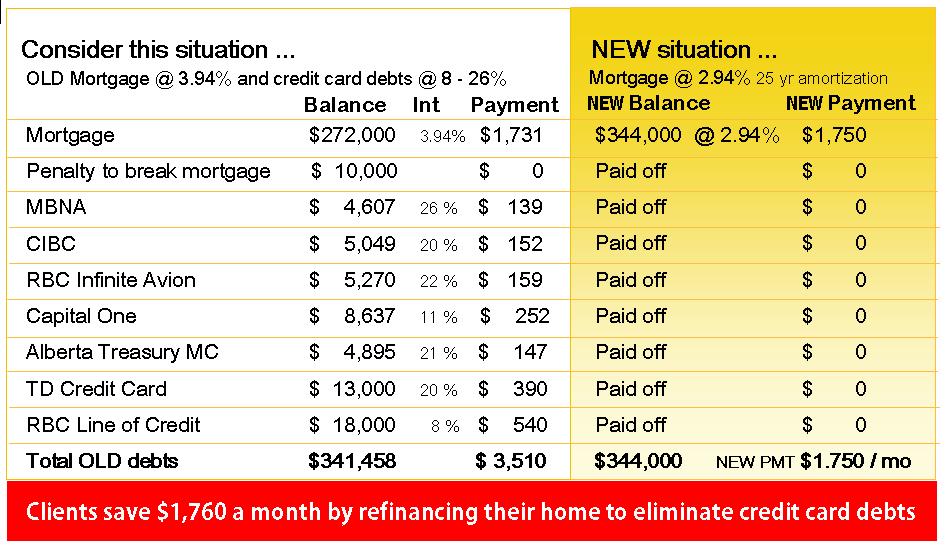 Should I refinance my mortgage? Take a look - the problem was solved and the savings are significant!
Clients' above credit was still workable in spite of being overextended;

They have good stable income;

The numbers worked;

Interest lowered to 2.94% from 3.94% (interest rates are subject to change without notice);

the penalty was significant but clients got their money fast and could stop the ongoing $1,750 monthly damage on the cost of their debt;

They had sufficient equity in the home to solve their problem.

Dealing with prepayment penalty to break the mortgage
Clients are often overwhelmed when they find out they have to pay a large upfront penalty to get out of their mortgage, even if they get an exceptional deal elsewhere.

Their banks force them to stay by offering them a blended interest rate - clients think that they're getting a deal because they don't have to face a large upfront penalty. So they stay and often end up paying even more.
Don't get fooled into paying even more money - remember, the banks will not give you anything for free and will not be doing you any special favors. They are in business to make big profits.
There is no such thing as free money.
To answer the "should I refinance home mortgage" question - let me show you a clients' home mortgage loan refinance scenario:
Clients found themselves in a big financial squeeze with too much debt. They could not keep up with their minimum monthly credit card payments and came to us for mortgage help to eliminate credit card debts using the equity in their home.
They were thrilled when I got them a 2.94% interest rate vs. the 3.94% they were currently paying. We consolidated all their expensive debt into one low monthly payment improving their cash flow.
EXISTING payment on their $272,000 mortgage was $1,731 a month plus another $1,779 monthly payments on their credit cards.
After consolidation new payment is $1,750 -- debt gone. Clients save $1,750 a month.
This is your sound answer to the question: "I refinance home mortgage."
When it came to closing and lawyers got a payout statement from the bank, clients were shocked that the penalty to break their mortgage was $10,000. Their bank of 30 years would not reduce the penalty but offered a new blended rate mortgage at 3.84% if they stay. It's no surprise the clients were questioning if they should refinance home mortgage, with me.
I calculated that over the 5 year term on our mortgage, clients will pay $46,737 in interest.
Interest they would pay to their bank over the 5 years on their mortgage offer would be $61,413.
$61,413 less $46,737 on our mortgage = $14,676 more over 5 years -- than paying the upfront $10,000 penalty.
What thanks for their business for over 30 years with their bank. Banks love offering a blended rate instead of upfront penalty because they make even more money -- they figure that the clients won't know any different.
We asked the bank to give us the formula used to come up with this $10,000 penalty. Instead of using clients' contract interest rate of 3.94% for the remaining term, the bank used the $3.94% + 2.25% to calculate the penalty to break the mortgage.

Which bank does this you ask? It does not matter, all banks mark up the interest on the contract rate anywhere from 1.1-2.5% when you want to break your mortgage.
My advice -- pay the penalty upfront and stop the damage from expensive credit which is costing you much more than the penalty. 

Remember, the banks are not going to do you any favors. We have excellent broker channel lenders that are transparent and fair. Beware of a minimally lower interest rate offered by retail banks to snag you in - it can cost you a small fortune in the end.
Marie Copeland, FSU, mortgage broker, Ontario.
Our mortgage approvals are made easy - most of the work is done on-line and by phone taking the red tape bureaucracy out of your mortgage financing process. You can apply on line and documents and signatures could be handled by fax or email saving you the trouble of needless personal appointments. 
Should I refinance home mortgage ? 
I love helping families save time and money.
Call 905.308.8063, or

Banks and "A" Lenders pay us for your service. EXCEPT bad credit mortgages, some self employed mortgages, private mortgages or multi-use and commercial loans - broker fees are payable by clients. 

*Lenders change their products and interest rates without notice.
Share refinance home mortgage information with others
---
Should I refinance home mortgage you ask. You get home mortgage loan refinance information on this website. Share with others who need refinance home mortgage help.
How to refinance home mortgage
› from Should I Refinance Home Mortgage